Teton Valley, ID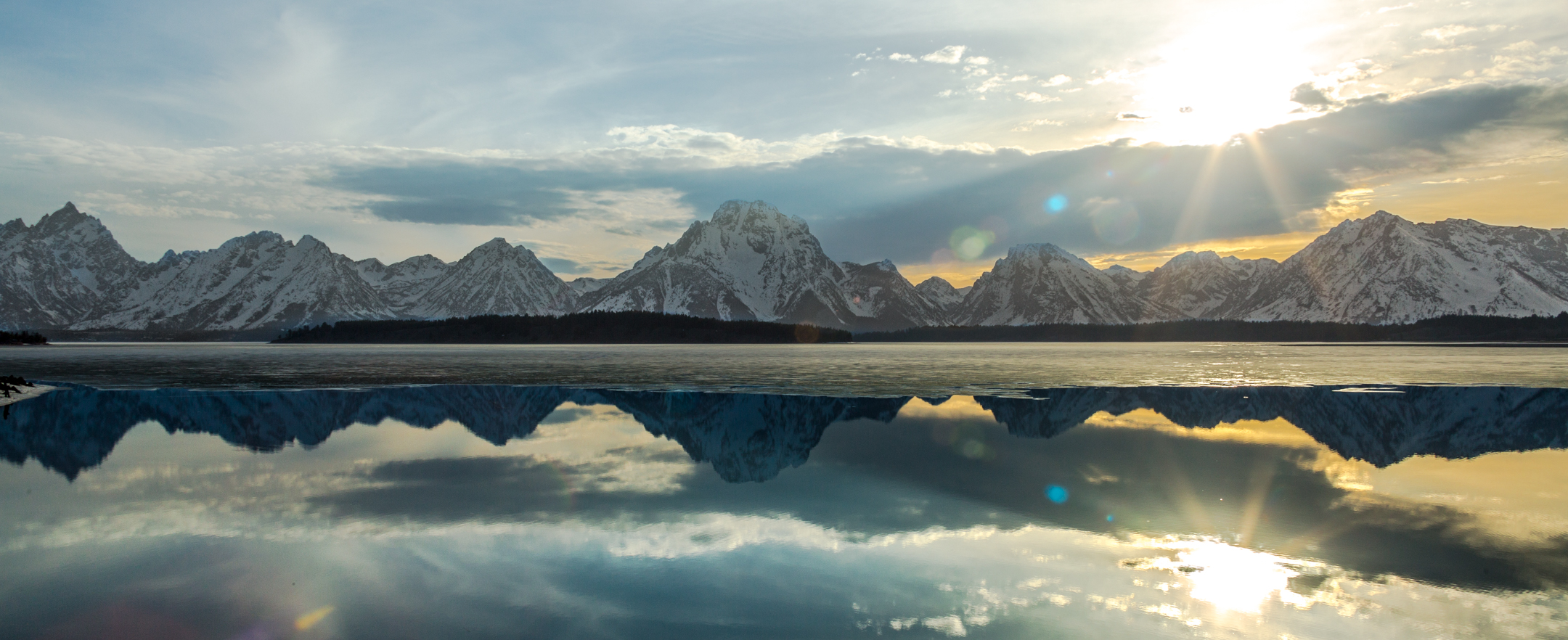 ..somewhere near jackson hole, wy
The first stop on the Idaho/Wyoming leg of our trip is Teton Valley, ID. More specifically we have been parked at the Teton Valley Resort in Victory, ID. We are here in the off season which falls between the end of the ski season and the beginning of the summer season. Being here in the off season means it's a lot less busy than usual which is nice. We can go on hikes and drives and not see another person for hours. The downside is that a lot of hiking trails have been under snow, the melt makes things pretty muddy, and a lot of tourist-driven businesses are not yet open - including many restaurants.
The resort has been under major renovations so it's probably not as peaceful or picturesque as it could be but it's been a nice stay. There aren't too many people here and the staff is extremely nice. They are building a ton of stuff here including a brand new club house that will include a bar and a gym. They also have a lot of lodging options going up including awesome cabins outfitted with a full kitchen, TV, and bathroom as well as tepees and high-end tents. They also allow tent camping but we haven't seen too much of that being that it's still thawing out.
Just about everywhere you look around here there are breathtaking views. It's mid-May and there's still snow on the mountains although there's less and less everyday.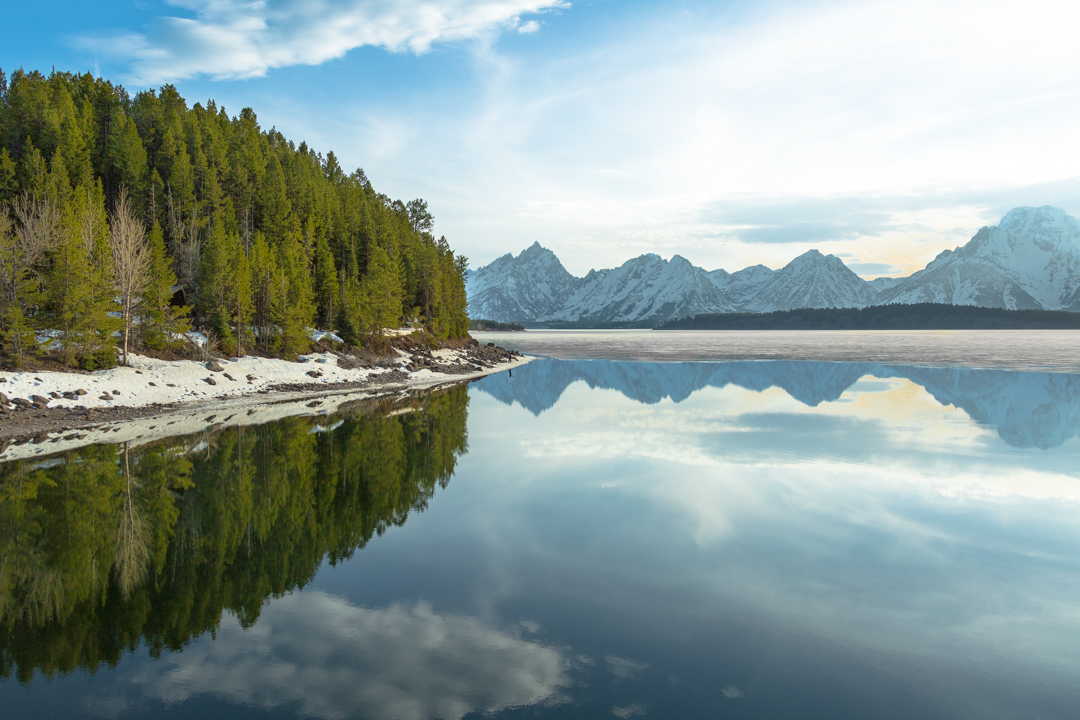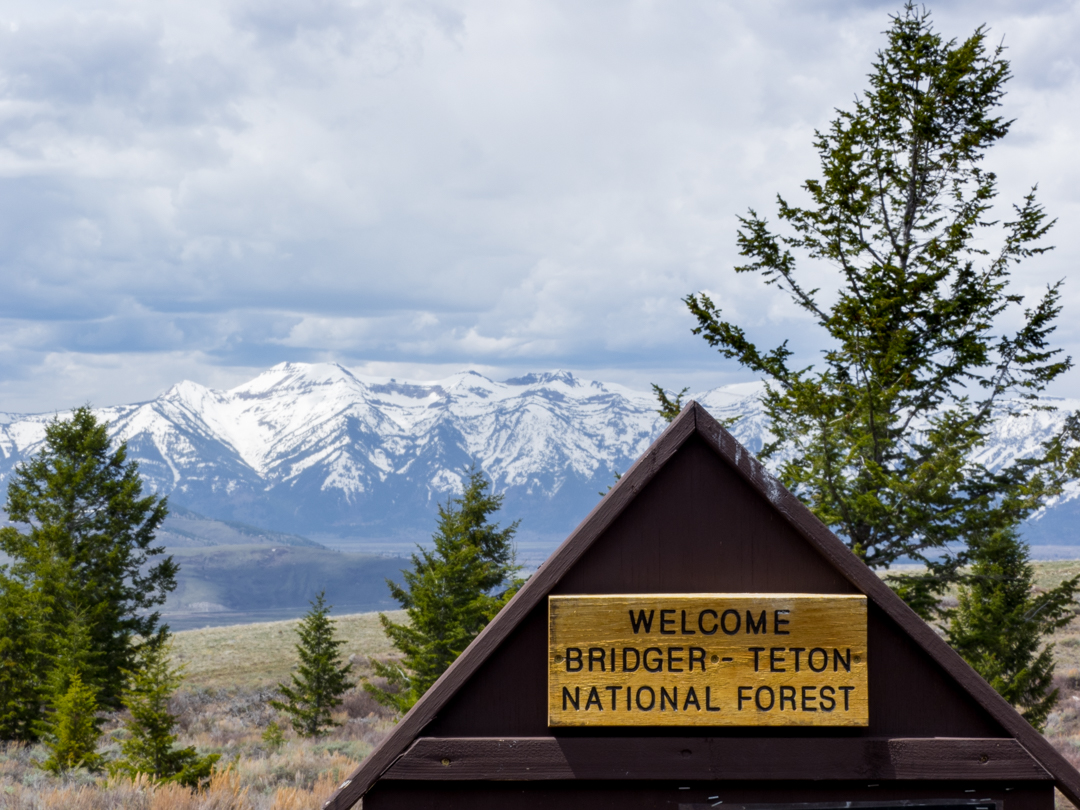 No bear or moose sightings yet but it's not uncommon to come across sizable game on the side of the road.
Some highlights
Teton Valley Resort: A quieter and less expensive option for RV, cabin, tepee, or tent lodging than nearby areas and still a convenient location.

Grand Teton National Park: There's great hiking, camping, sightseeing, and scenic drives within the park. The views of the mountain range or unreal.

National Elk Refuge: Just past the downtown area in Jackson, the National Elk Refuge is home to bison, big horn sheep, wolves, bald eagles, and a variety of birds. It's free to enter and even if you don't see much wildlife the scenery is breathtaking.

Bike paths: There are bike paths all over the place. You can ride 20 miles and not come across another rider depending on the time of year. I road from Victor to Driggs and back at the end of May and only came across one family going for a stroll.

Spud Drive In: A drive-in movie theater with a potato theme. What is a potato theme you ask? There is a pickup truck parked out front with a huge potato on the bed and a anthropomorphic potato driving the truck. They also have all sorts of potato-based snacks for purchase (tater-tots, french fries, etc.). It was definitely the only thing that was ever going to get me to watch A Wrinkle in Time. $7 per person in May of 2018.

Jackson Lake Dam: I don't think there's a ton of stuff to do at Jackson Lake Dam but it is absolutely beautiful and well worth the drive just to look out over the dam for a little while.

Ashton-Tetonia Trail: A flat 30 mile trail that follows the abandoned railroad of the Teton Valley Branch of the Union Pacific Railroad. Where we went, the trail cut through picturesque farm land. It's an easy hike and dogs are allowed. If you go to the right spot you'll come across a 135 foot high former trail trestle that spans Bitch creek.

Teton Reserve Golf Course: We're not big golfers so our opinion should be taken with a grain of salt but if you're looking for an affordable public golf course you should definitely check it out. It's a relatively new course with a gorgeous mountain backdrop. It's a pretty flat course and there aren't many trees but at $35 for a round with a cart (off season) you can't go wrong. They have a great grass range as well.

Recommended restaurants in Victor and Driggs | ID

Recommended restaurants in Jackson | WY

Gather: On the trendy and pricey side of things. Great views, beautiful space, rich and delicious food, and great service.

Hand Fire Pizza: Damn these guys make great pizza and converted a really cool theater into this new restaurant.

King Sushi: It's the king! Very good sushi but expect to wait and put a bit of a hurtin' on the ol' wallet.